*The listed price does not include software. Choose your software option at the bottom of this page.
Computers purchased through ASI are delivered fully tested, optimized, and configured with your Eclipse software pre-installed.  Advantage Software will pre-install your software onto your computer.  If you would like to provide us with your dictionary and user settings, we would be happy to install and convert them at no additional cost.  Upon receipt of your computer and software, you're ready to go.
PACKAGE INCLUDES:
 

* Choose your software version at the bottom of this page.

 

ThinkPad P15s Laptop 

($2499.00)

:

Custom-configured for court reporting with and your dictionary and settings pre-installed.

15.6"
1 TB SSD Hard Drive
32 GB RAM (upgrades available)
11th Gen Intel Core i7 Processor
3-Year Premier Warranty w/Onsite Next Business Day Service
It's not easy to make something powerful look easy—but Eclipse has been doing it for over 30 years. We don't just innovate, we emancipate, freeing reporters from drudgery with elegant technology that is incredibly easy to use. Features like Global Magic, Translation Magic, AutoMagic, and new Connection Magic have transformed court reporting with better translations, faster editing, and simpler operation.

Eclipse never rests! Our latest update includes over 300 new features and improvements, all of which work together for unmatched efficiency and ease of use. Below are just a few of the powerful new features in Eclipse:

Transcript Manager Suite

Impress your clients with a complete transcript management solution – without the expense. Eclipse includes all the functionality of expensive transcript management programs.

PDF Encryption & Protection
PDF/A-1b Compliance
One-Step Document Delivery
Digital Signature Support
Concordance Indexing

Auto-Indexing
Embedded Exhibit Files
Embedded Exhibit Linking
Embedded Auto-Indexing Linking

Miniature Transcripts – on Steroids

Our popular Multi-Page functions have been dramatically expanded for greater flexibility and ease of use. Multi-Page integrates seamlessly with our new transcript management features, and includes all the functionality you would expect in a high-end stand-alone program – including embedded exhibits and full-size/miniature bundling.

MultiSync –AudioSynch Reinvented

Now you can record and play back separate channels of audio without using any special hardware or file formats. Automatically sync multiple separate microphones to different speakers to easily play back each one individually, dramatically increasing clarity. MultiSync can also simultaneously record large, high-quality files for yourself and small files you can stream to remote scopists without the need for additional microphones.

Exciting Team Editing Improvements

Share the work for faster delivery! The exclusive Shared Editing functions of Connection Magic are more robust and flexible than ever. Now you can share private messages, import Bridge Mobile annotations as proofreader's marks, "hand off" output session ownership to other reporters, stream audio, remove users in realtime, and automatically transmit all associated document information. Imagine how impressed your clients will be when you hand them final copy before they walk out the door! Use Shared Editing at any time: in realtime or long after translation.

Effortless Connection to Realtime Clients Worldwide with Bridge Mobile™

Bridge Mobile takes realtime to the next level, displaying your changes the instant you make them. With Eclipse 7 and Bridge Mobile, it's easy to securely connect to clients worldwide or locally – all for one low price. Your clients can use iPads, Android devices, and PC/Mac/Linux browsers.

The Whole is Greater than the Sum of the Parts

Eclipse is much more than a collection of powerful features. It was meticulously designed from the ground up as a fully-integrated program where virtually every function enhances every other function. Intelligent conflict resolution enhances Translation Magic, which enhances Auto-Brief, which enhances Shared Editing, which learns from other's editing changes, which improves intelligent conflict resolution, which results in less editing, which results in better realtime, and so forth. That's why cobbled-on copycat features from other vendors fail to deliver the ease of use and efficiency of Eclipse.

AND THAT'S ONLY THE BEGINNING!

Other new features include AI-sharing, continuous statistics updating, "delayed" number triggers, an auto-block feature for boilerplate text, improved Analyze Documents features, more powerful Auto-Briefs, an even more powerful version of Advantage Software's patented Translation Magic, and much more.

All Software purchased from Advantage Software includes 1 Year of: Unlimited updates. Unlimited UNMATCHED toll-free, 24-hour support (365 days per year).

NOTE: Software sales may be subject to sales tax depending upon your location. Return Policy
Designed for ultramobile power users, the ThinkPad P15s Gen 2 mobile workstation is powered by 11th Gen Intel® Core™ processors for unmatched speed and performance. NVIDIA® T500 professional graphics with 4GB VRAM power add an extra boost for renderings and other intensive tasks.
Versatile productivity
The ThinkPad P15s Gen 2 packs massive power into its portable design. It also provides robust connectivity to give you an extra edge—including two Thunderbolt™ 4 ports—as well as a backlit keyboard with a numeric keypad to boost your productivity.
New levels of power
Make lag time a thing of the past with 1TB of fast NVMe SSD storage and up to 48GB 3200MHz memory. The ThinkPad P15s Gen 2 includes ISV certifications from major vendors like AutoCAD®, Revit®, SolidWorks®, and more.
Tough & durable
To ensure it runs in extreme conditions, the ThinkPad P15s Gen 2 is tested against 12 military-grade requirements and more than 200 quality checks. From desert dust storms to the Arctic wilderness, from zero gravity to accidental spills and being dropped, it won't let you down.
Advanced security
The ThinkPad P15s Gen 2 boasts an updated suite of built-in ThinkShield features to safeguard your device and data. Discrete Trusted Platform Module (dTPM) encrypts your business-critical data and works in conjunction with Windows 10 security features. A fingerprint reader assures extra-secure login. And its ThinkPad webcam privacy shutter lets you physically close the camera to keep the outside world out.
Processor

Intel® Core™ i7-1165G7 (4C / 8T, 2.8 / 4.7GHz, 12MB)

Operating System

Windows® 11 Pro (optional DG Windows 10 Pro) English

Display

15.6" FHD (1920x1080) IPS 300nits Anti-glare, 45% NTSC

Battery

Lithium polymer / 57 watt

Memory

32 GB (16GB Soldered DDR4-3200 non-ECC + 16GB SO-DIMM DDR4- 3200 non-ECC)

Storage

1TB SSD M.2 2280 PCIe® x4 NVMe® Opal2

Graphics

NVIDIA® Quadro® T500 4GB GDDR6

Dimensions (WxDxH)

365.8 x 248 x 19.1 mm (14.40 x 9.76 x 0.75 inches)

Weight

1.75 kg (3.86 lbs)

Camera

720p HD with ThinkPad Webcam Privacy Shutter

Security

Security Chip: Discrete TPM 2.0
Fingerprint Reader: Touch Style, Match-on-Chip
Physical Locks: Kensington® Security Slot
Other Security: Camera privacy shutter

Connectivity

WLAN + Bluetooth®: Intel AX201 11ax, 2x2 + BT5.2
WWAN: WWAN Upgradable to 4G
Standard Ports
• 1x USB 3.2 Gen 1
• 1x USB 3.2 Gen 1 (Always On)
2x Thunderbolt™ 4 / USB4™ 40Gbps / USB-C 3.2 Gen 2
(support data transfer, Power Delivery 3.0 and
DisplayPort™ 1.4)
•
• 1x HDMI® 2.0
• 1x microSD card reader
• 1x Headphone / microphone combo jack (3.5mm)

Audio

Audio Chip: High Definition (HD) Audio, Realtek® ALC3287 codec
Speakers: Stereo speakers, 2W x2, Dolby® Audio™

Keyboard

Backlit, English

Certifications

Green Certifications
• EPEAT™ Gold
• ENERGY STAR® 8.0
• TCO Certified Notebooks 8
• RoHS compliant

Mil-Spec Test: MIL-STD-810H military test passed

ISV Certifications: Please visit www.thinkworkstations.com/isv-certifications/
Optional (+$199)
An entire backup of your new laptop drive, including the Custom Configuration we made for you AND your Eclipse files, are backed up to a 1 TB external hard drive.
Don't be left in the lurch if your hard drive crashes, or if a forced Windows update leaves you scrambling for your settings, your apps, your marbles. Pc makers don't send "recovery disks" anymore and, let's face it, most of us are never going to make one ourselves. When we try, restore points never seem to work, and for the lucky few that can bend Windows "restore" to their will, we're left with a criminally small amount of hard drive space. Advantage has you covered. Plug in this pre-configured 1tb external backup drive once weekly, and you'll have a pristine restore point from your initial configuration, and automatic backups of all the work you've done in-between. While keeping all that prime SSD real estate available for what's important. Your data.
SPEAKING YOUR LANGUAGE
Every ASI Laptop is custom-configured by top Eclipse technicians with years of experience helping reporters just like you. They know what helps, what hurts, what makes your life easier, and what slows you down. Settings are optimized and reporter-specific. Bloatware is culled. Corporations pay PC manufacturers big money to overload your laptop with useless "free" trial software, creating an inefficient and confusing mess right out of the box. We trim it all and get your computer running at peak efficiency, so you hit the ground running.
THE NERDS YOU NEED
Our Eclipse techs know what reporters need, as they help them optimize their systems daily. They also know Eclipse like the backs of their hands, and put it and your PC in lockstep, like lifelong friends. Save yourself hours of confusing setup and transfer, as we pre-install Eclipse, transfer your settings, jobs, dictionaries, block files, the works. Windows is tweaked to optimum performance, all relevant apps are updated, and every chip and port is painstakingly inspected and tested. You also get a *free year of Searchmaster a $249 value, just for purchasing a laptop through Advantage Software.
CUSTOM POWER
Eclipse laptops are custom-tailored to your needs based on input type, work focus, and personal preference. Our techs will help you pick the right chipset, RAM, storage media, and accessories for your reporting style.
REMOTE CONTROL
More than ever, reporters are required to do their jobs remotely. We'll make sure your Zoom is installed and optimized. Grab one of our elite microphones for superior sound. Audio quality is key here, and we'll confirm that every channel rings clear as a bell, whether from across the state or the witness stand.
IF IT AIN'T BROKE, YOU WON'T HAVE TO FIX IT
Customers who purchase our laptops need less support, and spend less time troubleshooting because every setting and component is tweaked to perfection. We do the heavy lifting on our end, so you don't have to.
Included: 3-Year Premier w/Onsite NBD
(Next Business Day)
Premier Support is a service package designed for customers who want to bypass basic troubleshooting and experience shorter waiting times, reduced repair times, and higher first-time fix rates. It's a direct line to advanced-level phone support and is designed to expedite problem resolution. Premier Support is designed to give your customers the best service experience available with our Onsite Next Business Day (NBD) warranty service.
3 Year Premier w/ Onsite + ADP -- $129

3-Year Premier w/Onsite + Lenovo Protect (KYD+PRE+ADP+SBTY) -- $229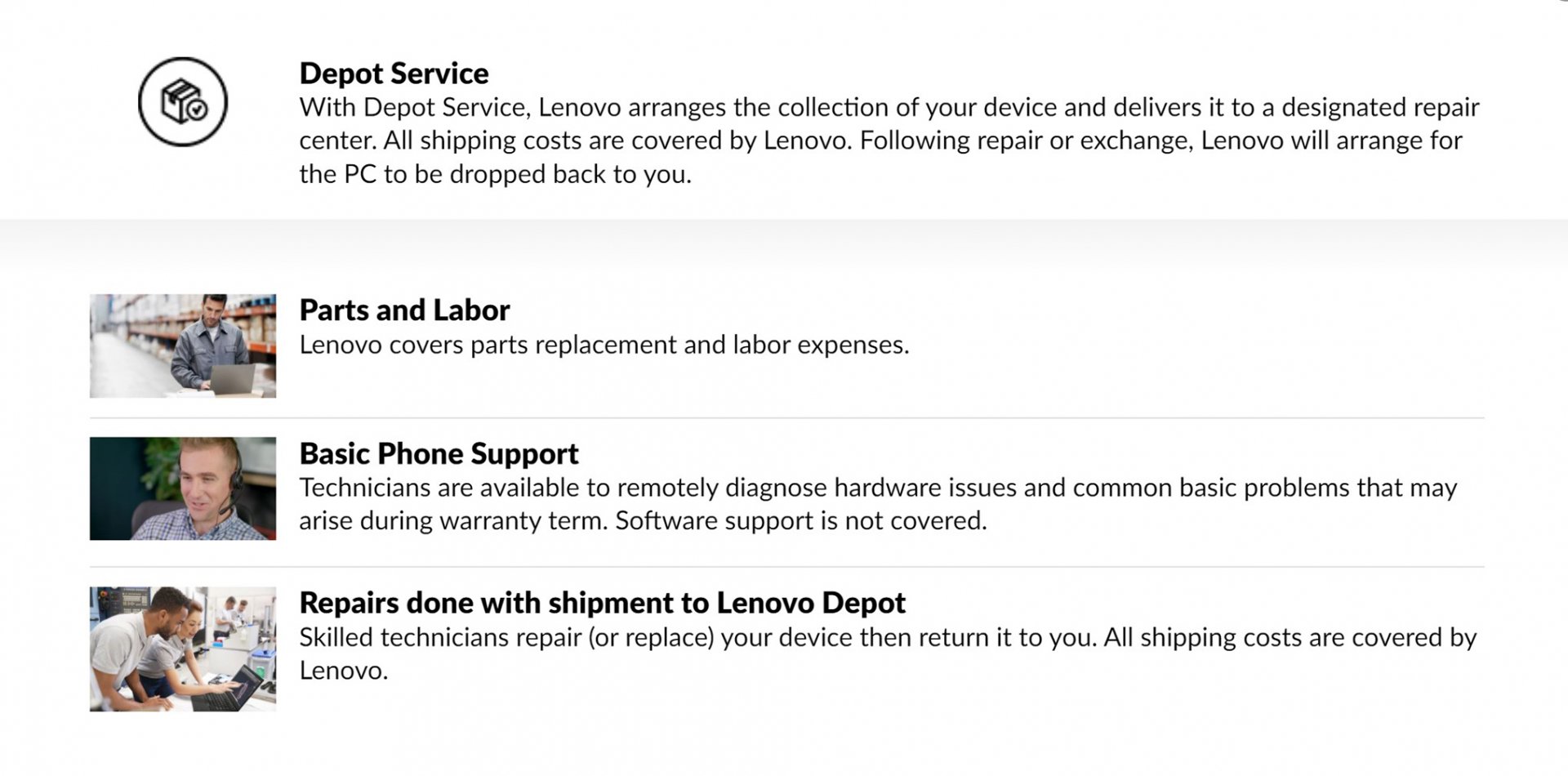 ADP: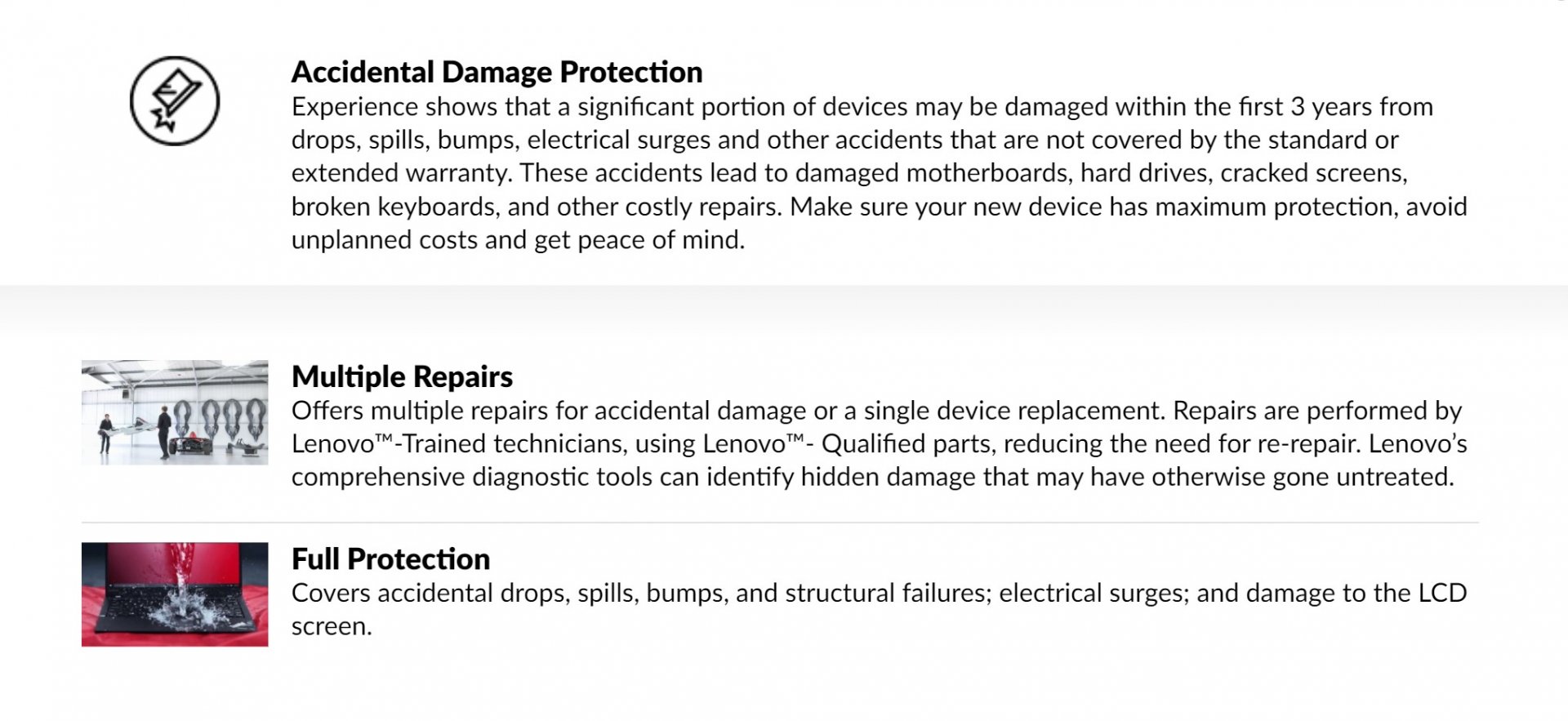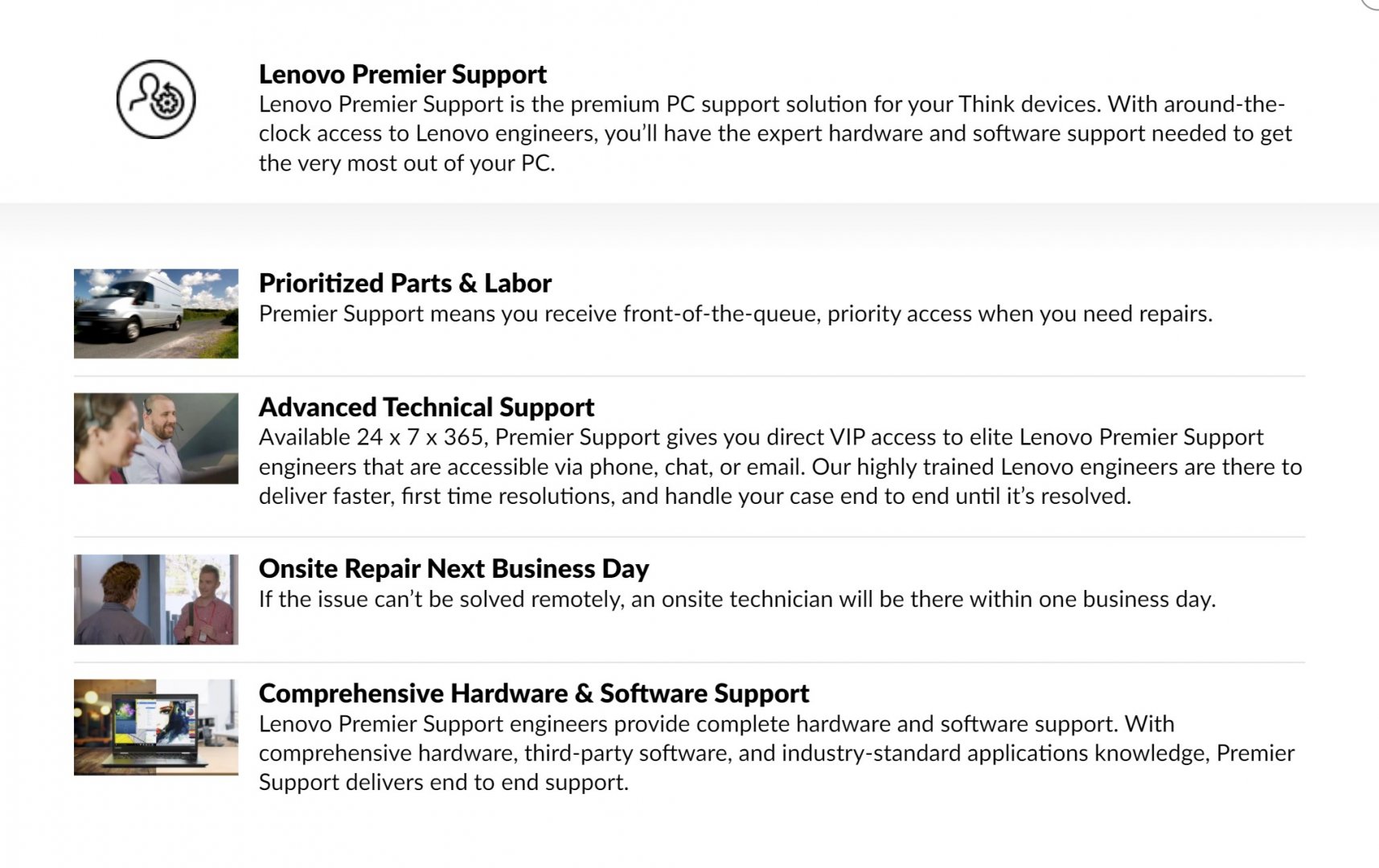 Short for Premium in 3-Year Premium
ThinkPad laptop Fn and Ctrl keys are laid out differently than the majority of laptops on the market.
We can swap the functionality of these keys at your request.