NEW ARRIVAL! MSRP: $3997.99
SHIPS IN 2 - 3 BUSINESS DAYS
(pending receipt of your files)
15.6" LG Gram Laptop w/Intel® Core™ i7 processor, Windows 10 Pro (64 bit) OS, FHD IPS Screen, & 16GB DDR4 RAM & 1TB
SSD
The ultra-lightweight LG gram is the ultimate portable laptop. This 15.6" gram laptop weighs only 2.5 lbs. making it easy to take virtually anywhere you go.
Ultra-lightweight with Large Screen
The ultra-lightweight LG gram is the ultimate portable laptop. This 15.6" gram laptop weighs only 2.5 lbs. making it easy to take virtually anywhere you go.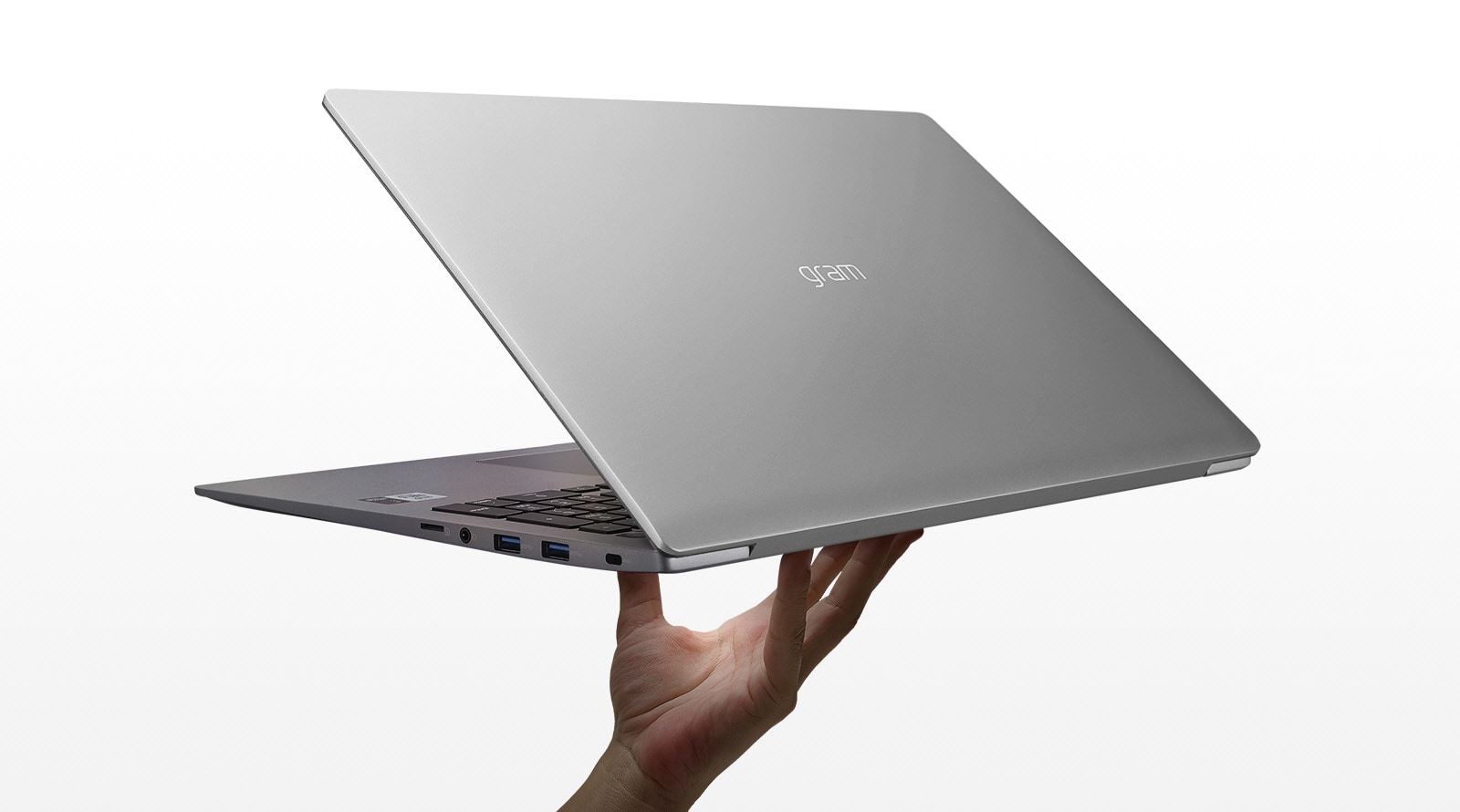 *Images are for illustration purposes only.
80Wh Battery
The 80Wh Battery Lets You Keep Working
With a long battery life and improved performance, you'll have up to 18.5 hours on the fully charged 80Wh battery*. Keep working while others look for an AC outlet.
*Actual battery life will vary from specifications depending on the model, settings, and user environments.
*Images are for illustration purposes only.
10th Gen Intel® CPU
10th Gen Intel® CPU with Iris® Plus Graphics
Featuring the latest 10th Gen Intel® Core™ processor with Intel® Iris® Plus graphics, the LG gram provides great performance. Experience stunning visuals via smooth 4K HDR video playback and enjoy fluid movement in 1080p gaming.
*Images are for illustration purposes only.
Full HD IPS Display
Vibrant & Accurate Color
at Any Angle
The 15.6-inch screen with Full HD (1920X1080) IPS display delivers precise and clear imagery through outstanding color accuracy without virtually no distortion at any angle.
*Images are for illustration purposes only.
Thunderbolt™ 3
Charge, Transfer and Display with One Port
The Thunderbolt™ 3 port allows up to a 5K display, data transfer with speeds up to 40Gb/s bandwidth, and charging a connected device without a separate power cable. This is done with a single cable.
*Images are for illustration purposes only.
MIL-STD-810G
Proven Durability
The full metal body made from the same magnesium alloy used as aircraft material is lightweight and super-strong. It meets the demanding MIL-STD-810G military standard for durability and reliability that checks seven factors from shock and dust to extreme temperatures.
*Images are for illustration purposes only.
*Passed 7 different MIL-STD 810G Tests for durability conducted by KOLAS Labs that conforms to U.S. military standards. Compliant with the following methods for MIL-STD-810G: 500.6 Procedures I and II - Low pressure (altitude); 501.6 and 502.6 Procedures I and II - Temperature; 509.6 - Salt fog; 514.7 - Vibration; 516.7 - Shock; 516.7 - Drop; 510.6 - Dust. Device may not perform as tested in all conditions. Test performed in controlled environment. Do not attempt.
Fingerprint Reader
Securely Log On with Fingerprint Reader
With the LG gram 2-in-1 you don't need to remember a password, because the fingerprint recognition allows you to log on or wake your laptop/tablet by touching the power button.
*Images are for illustration purposes only.
Backlit Keyboard
No Lights? No Problem.
Thanks to the backlit keyboard you can keep working even in dark environments by simply touching the power button. The keyboard brightness is easily adjusted for two levels.
*Images are for illustration purposes only.
DTS:X Ultra
Dive in Deeper
DTS:X Ultra is truly immersive 3D audio and provides the most realistic surround sound experience with speakers or headphones. And its flexible UI allows you to create a custom interface.
Specifications are provided by the manufacturer.
Hard Drive Capacity: 1.024 TB

Embedded Security: Trusted Platform Module (TPM) Security Chip

Security Devices: Fingerprint reader
Operating System:
Windows 10 Pro 64-bit Edition
Processor:
10th Gen Intel i7-1065G7 w/Turbo Boost Technology (
Clock Speed: 1.3 GHZ/
Max Turbo Speed: 3.9 GHZ)
RAM:
16 GB DDR4 SDRAM (1 x 8 GB + 8 GB (soldered) 3200 megahertz)(
Cache Memory: L3, 8 MB
Hard Drive:
512 GB x 2 (1 TB) M.2 2280/NVM Express (NVMe)
Optical Storage: None
Display:
15.6 inch Full HD/LED Backlight
Diagonal Size (metric): 39.6 centimetre

Native Resolution: 1920 x 1080

Monitor Features: Reader Mode
Video Output/Graphics Processor:
Intel Iris Plus Graphics
Audio Output
: DTS:X Ultra Stereo Speakers
Input Device
: Backlight Keyboard & Touchpad
Wireless NIC: Intel Wi-Fi 6 AX 201

Data Link Protocol: Bluetooth 5.0, IEEE 802.11ax, Ethernet, Fast Ethernet

Wireless Protocol: Bluetooth 5.0, 802.11ax

Wired Protocol: 10/100 Ethernet

Features: Dual stream (2x2)
Interfaces:
HDMI, USB-C 3.1/Thunderbolt 3, Headphone output, 3 x USB 3.1
Fingerprint Reader: Yes
Embedded Security: Trusted Platform Module (TPM) Security Chip
Battery:
2-cell, Lithium ion, 80 watt hour(s)
Battery Runtime:
Up to 18.5 hours
Dimensions & Weight (Shipping)
Shipping Width: 18.4 inch

Shipping Depth: 10.7 inch

Shipping Height: 2.4 inch
Case Material: Magnesium alloy

Included Accessories: Power adapter

Compliant Standards: MIL-STD 810G

Features: Pressure-resistant, Shock-resistant, Vibration-resistant, Dust-resistant

Theft/Intrusion Protection: Security lock slot (cable lock sold separately)

Security Slot Type: Kensington security slot
Warranty: 1-year limited parts and labor

(upgrades available):
SPEAKING YOUR LANGUAGE
Every ASI Laptop is custom-configured by top Eclipse technicians with years of experience helping reporters just like you. They know what helps, what hurts, what makes your life easier, and what slows you down. Settings are optimized and reporter-specific. Bloatware is culled. Corporations pay PC manufacturers big money to overload your laptop with useless "free" trial software, creating an inefficient and confusing mess right out of the box. We trim it all and get your computer running at peak efficiency, so you hit the ground running.
THE NERDS YOU NEED
Our Eclipse techs know what reporters need, as they help them optimize their systems daily. They also know Eclipse like the backs of their hands, and put it and your PC in lockstep, like lifelong friends. Save yourself hours of confusing setup and transfer, as we pre-install Eclipse, transfer your settings, jobs, dictionaries, block files, the works. Windows is tweaked to optimum performance, all relevant apps are updated, and every chip and port is painstakingly inspected and tested. You also get a *free year of Searchmaster a $249 value, just for purchasing a laptop through Advantage Software.
CUSTOM POWER
Eclipse laptops are custom-tailored to your needs based on input type, work focus, and personal preference. Our techs will help you pick the right chipset, RAM, storage media, and accessories for your reporting style.
REMOTE CONTROL
More than ever, reporters are required to do their jobs remotely. We'll make sure your Zoom is installed and optimized. Grab one of our elite microphones for superior sound. Audio quality is key here, and we'll confirm that every channel rings clear as a bell, whether from across the state or the witness stand.
IF IT AIN'T BROKE, YOU WON'T HAVE TO FIX IT
Customers who purchase our laptops need less support, and spend less time troubleshooting because every setting and component is tweaked to perfection. We do the heavy lifting on our end, so you don't have to.
---
How To Transfer Eclipse or AccuCap Files (if applicable)
Once your order is processed, we'll email you with instructions on how to send us Eclipse-related files to load onto your new laptop. Should you want any assistance sending us these files, as always, please don't hesitate to call our Anytime Support 24/7 team and we will be happy to assist you.
Included: 1-Year Standard Warranty
UPGRADES (ExtendedCare Plans):
2-Year Standard ($65)

2-Year w/24-Hour Quick Swap ($105)

3-Year Standard ($120)

3-Year w/24-Hour Quick Swap ($185)
LG ExtendedCare Plan
LG's ExtendedCare Plan protects your investment by offering extended service coverage provided by LG for commercial displays in the hospitality, healthcare, and digital signage markets. By offering this program, you will enjoy the added peace of mind that comes with knowing your products are protected.
Quick Swap (Advanced Exchange)
Minimizes down time of device and quickly gets the device up and running. LG will provide a return box and prepaid return shipping label for customer to return the unit. Service call for Advanced Exchange must be made by 2pm CST.
Next Business Day Exchange, 2nd Business Day Delivery or 3rd Business Day Delivery dependent on the product model and service option available.
Optional (+$199)
An entire backup of your new laptop drive, including the Custom Configuration we made for you AND your Eclipse files, are backed up to a 1 TB external hard drive.
Don't be left in the lurch if your hard drive crashes, or if a forced Windows update leaves you scrambling for your settings, your apps, your marbles. Pc makers don't send "recovery disks" anymore and, let's face it, most of us are never going to make one ourselves. When we try, restore points never seem to work, and for the lucky few that can bend Windows "restore" to their will, we're left with a criminally small amount of hard drive space. Advantage has you covered. Plug in this pre-configured 1tb external backup drive once weekly, and you'll have a pristine restore point from your initial configuration, and automatic backups of all the work you've done in-between. While keeping all that prime SSD real estate available for what's important. Your data.