Boost Flow™  Only in Eclipse
Provide cleaner realtime, and deliver your most polished rough drafts yet.
Boost Bucket™ Pricing
Boost Minutes are required to take advantage of the Boost and Boost Flow features in Eclipse.
Boost Minutes enable usage of Google Cloud Speech-to-Text and Speechmatics Enhanced models.
Google Cloud Speech-to-Text requires an internet connection.
Speechmatics Enhanced does not require an internet connection; we recommend a Boost Box for fast dropdown speed.
Use one or the other, or use them interchangeably.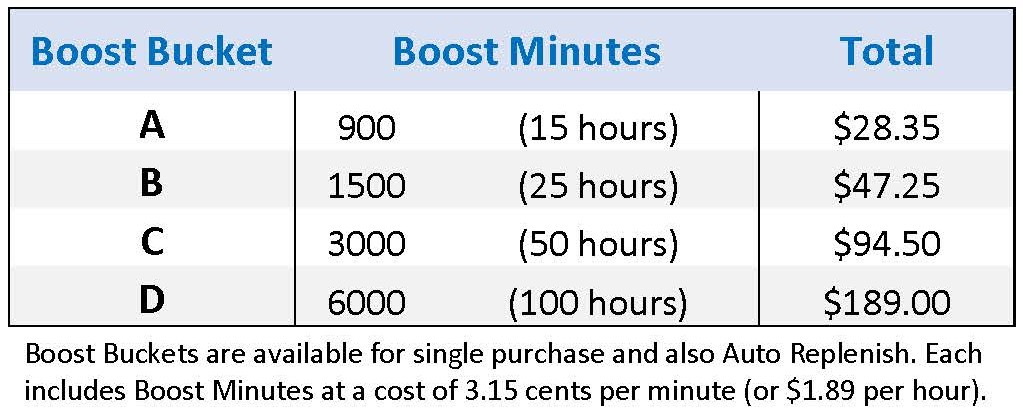 Boost™ Auto Replenish
With optional and easy Auto Replenish, you don't have to spend effort monitoring your Boost account.
You set up the rules one time, and we'll automatically check and reload your account weekly as necessary.
1. Select a Low Balance limit.
2. Select Boost Bucket A, B, C, or D.
3. Set up in 5 minutes with Account Services at (772)288-3266.
Set up, change, or cancel at any time by calling Account Services during regular office hours.
Terms and Conditions for Boost Minutes:
User must have the Eclipse 10 official release installed.
User must be keyless. Boost Minutes must be purchased by calling (772)288-3266 during normal business hours.
Boost Minutes are rounded to the nearest minute increment. For example, usage of 10 Minutes, 29 Seconds counts as 10 Boost Minutes; usage of 10 Minutes, 30 Seconds counts as 11 Boost Minutes.
Purchased Boost Minutes have no expiration so long as there has been at least one minute of Boost Minute Activity (BMA) in the previous 12 months; if there has been less than one minute of BMA in the previous 12 months, any unused Boost Minutes shall be expired.
After 11 months with no BMA, an email reminder will be sent to the email address on file.
BMA for these purposes is measured by calendar month.
Boost Minutes are non-transferable between licenses, and non-transferable between different customer accounts.
BMA is collected and stored instantly by the Connection Magic server each time Boost is used, and Account Services database records are updated weekly.
User acknowledges that Boost requires an active internet connection when in use.