You are here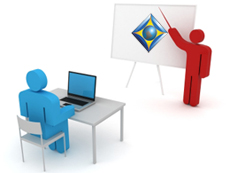 Please note that the trainers listed below are independent contractors, and are not employed by Advantage Software. Advantage Software cannot be held responsible for any issues that arise between you and your trainer.
If you are interested in becoming a trainer for Total Eclipse, please email trainers@eclipsecat.com
---
A C D F G I K L M N O P R S T V W Outside the U.S.
---
Angie Ryder
Huntsville, AL
Phone: (256) 325-5909
E-mail: angie@eclipsecoach.com
Website: www.eclipsecoach.com


Advanced Trainer
Steno and Voice

Will Travel To: contact for specifics
Notes: Remote Training Available, Specializing in Indexing
__________
---
Carrie Hewerdine
(775)220-7999
Phone:
E-mail: vieuxcarrie@gmail.com


Advanced Trainer

Will Travel To: California, Nevada, Oregon and Washington
Notes: Expertise: Reporters converting to Eclipse from inferior products :-) - Realtime and auto briefs. Setting up Connection Magic and editing from the steno machine on the fly. Training available in California, Nevada, Arizona, Oregon and Washington
__________
---
Laura Axelsen
Vacaville, CA
Phone: (707) 373-0613
Phone 2:(707) 446-7047
E-mail: laxelsen@cs.com


Advanced Trainer

Will Travel To: Negotiable but mostly remotely
Notes: Will train beginners on up. I provide FREE training and help to ALL Eclipse students anywhere. I do some small webinars for students also.
__________
Linda Hagen
San Diego, CA



__________


Phone: (858) 967-7599
E-mail: lhagen624@gmail.com


Advanced Trainer

Will Travel To: Please inquire - Remote training available
Carrie Hewerdine
Alameda, CA
Phone: (775)220-7999
E-mail: vieuxcarrie@gmail.com


Advanced Trainer

Will Travel To: Nevada, Arizona, Oregon and Washington
Notes: Expertise: Reporters converting to Eclipse from inferior products :-) - Realtime and auto briefs. Setting up Connection Magic and editing from the steno machine on the fly. Training available in California, Nevada, Arizona, Oregon and Washington
__________
Teresa Maciel
Fresno, CA
Phone: (559)514-4905
Phone 2:(844)855-3376
E-mail: MacielTeresa@outlook.com


Advanced Trainer

Will Travel To: Oregon & Nevada (Internet training available throughout the US via fastsupport.com)
Notes: Expertise: 24-year California CSR; Eclipse user since DOS to Windows conversion; Northern California Sales Rep. Note: travel fees applied
__________
Angela Mapp
Rancho Palos Verdes, CA
Phone: (323)793-6644
E-mail: Angiencali@icloud.com
E-mail 2: amapp@lacourt.org


Notes: Expertise: Auto-Indexing and Macros
__________
Lori Stokes
Walnut Creek, CA
__________


Phone: (925) 330-2149
E-mail: LoriStokesCSR@gmail.com


Wil Wilcox
Santa Clarita, California
Phone: 661-505-8613
E-mail: wil.wilcox@gmail.com


Advanced Trainer

Notes: Check availability
__________
---
---
Dineen Squillante
Arlington, VT
Phone: (802)342-7199
E-mail: dineen@comcast.net



Will Travel To: VT, MA, NY, NH & RI
Notes: Training available via Phone, Online & webinars also available.
__________
---
David Stanley
Williamsburgh, VA
Phone: (757)564-8755
E-mail: dstanley5@cox.net


Advanced Trainer

Will Travel To: Delaware
Notes: Will Travel To: VA, NC, SC, MD, DC, PA, DE Remote training available via GoToMeeting
__________
---
David Stanley
Williamsburg, VA
Phone: (757)564-8755
E-mail: dstanley5@cox.net


Advanced Trainer

Will Travel To: Washington, D.C.
Notes: Will Travel To: VA, NC, SC, MD, DC, PA, DE Remote training available via GoToMeeting
__________
---


__________


Phone:
E-mail:




__________


Phone:
E-mail:


Jennifer Bonfilio
Delray, FL

__________


Phone: (866) 349-0032
E-mail: jbonfilio@c2ccaptioning.com
Website: c2ccaptioning.com


Advanced Trainer
Captioning

Christine Phipps
West Palm Beach, FL
Phone: 954-802-8643
E-mail: Christine@phippsreporting.com
Website: www.phippsreporting.com


Advanced Trainer

Will Travel To: any location
Notes: Groups, Seminars or Conventions only. Expertise: Eclipse and Bridge Additional Website: ChristinePhipps.info
__________
---
Allison Bradford
Atlanta, GA
Phone: 404-944-1257
E-mail: BradfordCCR@att.net


Basic

Will Travel To: Metro Atlanta area
Notes: Basic & Intermediate Software & Steno Writers.
__________
Jana Colter
Atlanta, GA
__________


Phone: 513-348-4504
E-mail: jana@alacarteconnection.com


Barbara Memory
Blackshear, GA
__________


Phone: (912) 449-8486
E-mail: barbara@memoryreporting.com


Tori Pittman
PO Box 47, Wake Forest, NC 27588
Phone: 919-931-6222
Phone 2:tori@tori-pittma
E-mail: ToriRDR@gmail.com


Basic
Steno and Voice

Will Travel To: NC, SC, GA, TN
Notes: Will Travel to: NC, SC, GA, VA, TN - with compensation
__________
---
Reagan Fiorino
Moro, IL
Phone: 618-304-0033
E-mail: rgnfiorino@gmail.com



Will Travel To: St. Louis, Missouri
Notes: Will consider travel to other areas.
__________
---
Brenda Rogers-Fiscus
Hammond, IN
Phone: 503-422-2532
E-mail: brendactrptr@yahoo.com


Advanced Trainer

Will Travel To: Group training on-site (One-on-one training remotely)
Notes: Editing efficiency through Auto Magic, macros, and hyperkeys; understanding user settings; Connection Magic setup. Group training at state conventions available.
__________
---
Cathy Penniston
Ottumwa, IA
__________


Phone: (641) 684-7729
E-mail: cpenniston@gmail.com


Allison Wise
Council Bluffs, IA
Phone: (712) 310-6115
E-mail: allisonlwise@gmail.com



Will Travel To: Des Moines, IA
Notes: Will also travel to: Omaha, Nebraska
__________
---
Myles Megee
8700 Monrovia, Suite 310




__________


Phone: (913) 375-8637
E-mail: myles@crexchange.net
Website: www.crexchange.net


Advanced Trainer
Groups Only
Basic

Will Travel To: Missouri and Iowa
Naola "Sam" Vaughn
Kansas City



Phone: 816-820-3329
E-mail: naolavaughn@gmail.com



Will Travel To: Missouri & Kansas
---
Johnna Barron
Covington, LA
Phone: (985) 264-4330
E-mail: reporterrescuellc@gmail.com


Advanced Trainer

Will Travel To: Groups only
Notes: Online training, or one on one in Covington, LA.
__________
Jodi Simcox
Mandeville, LA
Phone: (985) 789-2504
E-mail: jodisimcox@bellsouth.net


---
Mary Beth Everhart
Annapolis, MD
__________


Phone: 410-626-7866
E-mail: marybeth@everbatim.net


Advanced Trainer
Groups Only

David Stanley
Williamsburg, VA
Phone: (757) 564-8755
E-mail: dstanley5@cox.net


Advanced Trainer

Will Travel To: Maryland
Notes: Will Travel To: VA, NC, SC, MD, DC, PA, DE Remote training available via GoToMeeting
__________
---
Teri Gibson
Chelsea, MA
Phone: 857-302-2353
E-mail: terigibson76@gmail.com
Website: http://www.gibsonrealtimereporting.com


Basic

Will Travel To: Rhode Island and New Hampshire
Notes: Remote training provided via Zoom meeting.
__________
Dineen Squillante
Arlington, VT
Phone: (802)342-7199
E-mail: dineen@comcast.net



Will Travel To: VT, NY, NH, CT & RI
Notes: Training available via Phone, Online & webinars also available.
__________
---
---
Reagan Fiorino
Moro, IL
Phone: 618-304-0033
E-mail: rgnfiorino@gmail.com



Will Travel To: St. Louis, Missouri
Notes: Note: Will consider travel to other areas.
__________
Naola "Sam" Vaughn
Kansas City



Phone: 816-820-3329
E-mail: naolavaughn@gmail.com



Will Travel To: Kansas & Missouri
---
Allison Wise
Council Bluffs, IA
Phone: (712)310-6115
E-mail: allisonlwise@gmail.com



Will Travel To: Omaha, NE
Notes: Will also travel to: Des Moines, Iowa
__________
---
Linda Hagen
San Diego, CA
Phone: (858) 967-7599
E-mail: lhagen624@gmail.com
Website: CSRTechEducation.com


Advanced Trainer

Will Travel To: Las Vegas, NV
Notes: Will Travel to: Please inquire - Remote training available Note: Facebook Page: CSRTechEd
__________
Carrie Hewerdine
Alameda, CA
Phone: (775)220-7999
E-mail: vieuxcarrie@gmail.com


Advanced Trainer

Will Travel To: California, Arizona, Oregon & Washington
Notes: Expertise: Reporters converting to Eclipse from inferior products :-) - Realtime and auto briefs. Setting up Connection Magic and editing from the steno machine on the fly. Training available in California, Nevada, Arizona, Oregon and Washington
__________
Teresa Maciel
Fresno, CA
Phone: (559)514-4905
Phone 2:(844)855-3376
E-mail: maciel_teresa@yahoo.com


Advanced Trainer

Will Travel To: Oregon & Nevada (Internet training available throughout the US via fastsupport.com)
Notes: Expertise: 24-year California CSR; Eclipse user since DOS to Windows conversion; Northern California Sales Rep Note: travel fees applied
__________
---
Dineen Squillante
Arlington, VT
Phone: (802)342-7199
E-mail: dineen@comcast.net



Will Travel To: VT, MA, NY, CT & RI
Notes: Training available via Phone, Online & webinars also available.
__________
---
Linda Danelczyk
Little Falls, NJ



Phone: (201) 452-5143
E-mail: ldanelczyk@optonline.net


Advanced Trainer

Will Travel To: case-by-case basis
---
Valerie Monaco
Yonkers, NY



__________


Phone: (718) 618-1513
E-mail: IFPLT@aol.com


Advanced Trainer
Basic

Will Travel To: New York metro area
Vera Monaco
White Plains, NY
__________


Phone: (347) 296-1427
E-mail: nycourtrptr@aol.com


Ellen Rubin
West Hempstead, NY
__________


Phone: (516)205-7559
E-mail: EllenRubinRPR@gmail.com


Dineen Squillante
Arlington, VT
Phone: 802-342-7199
E-mail: dineen@comcast.net



Will Travel To: VT, MA, NH, CT & RI
Notes: Training available via Phone, Online & webinars also available.
__________
---
Tori Pittman
PO Box 47, Wake Forest, NC 27588
Phone: 919-931-6222
E-mail: tori@tori-pittman.com
E-mail 2: ToriRDR@gmail.com


Basic
Steno and Voice

Will Travel To: SC, GA, VA, TN - with compensation
Notes: Will Travel to: NC, SC, GA, VA, TN - with compensation
__________
David Stanley
Williamsburg, VA
Phone: (757) 564-8755
E-mail: dstanley5@cox.net


Advanced Trainer

Will Travel To: North Carolina
Notes: Will Travel To: VA, NC, SC, MD, DC, PA, DE Remote training available via GoToMeeting
__________
---
Carrie Hewerdine
Alameda, CA
Phone: (775)220-7999
E-mail: vieuxcarrie@gmail.com


Advanced Trainer

Will Travel To: California, Nevada, Arizona & Washington
Notes: Expertise: Reporters converting to Eclipse from inferior products :-) - Realtime and auto briefs. Setting up Connection Magic and editing from the steno machine on the fly. Training available in California, Nevada, Arizona, Oregon and Washington
__________
Teresa Maciel
Fresno, CA
Phone: (559)514-4905
Phone 2:(844)855-3376
E-mail: maciel_teresa@yahoo.com


Advanced Trainer

Will Travel To: Oregon & Nevada (Internet training available throughout the US via fastsupport.com)
Notes: Expertise: 24-year California CSR; Eclipse user since DOS to Windows conversion; Northern California Sales Rep. Note: travel fees applied
__________
Terri Mundt
Portland, OR
Phone: (503) 297-3733
Phone 2:(503)314-1155
E-mail: terrijmundt@cs.com
E-mail 2: tmundt@cart-law.com
Website: www.terrimundt.com


Advanced Trainer

Will Travel To: Oregon and Southwest Washington, Tacoma & Seattle
Notes: 25 years as a court reporter & Eclipse user. I love teaching & training on Eclipse software & Passport writers, combining my two passions: court reporting & teaching.
__________
---
David Stanley
Williamsburg, VA
Phone: (757)564-8755
E-mail: dstanley5@cox.net


Advanced Trainer

Will Travel To: Pennsylvania
Notes: Will Travel To: VA, NC, SC, MD, DC, PA, DE Remote training available via GoToMeeting
__________
Michael Starkman
Holland, PA
Phone: (215) 504-8797
E-mail: mrstark@comcast.net


Advanced Trainer

---
Dineen Squillante
Arlington, VT
Phone: 802-342-7199
E-mail: dineen@comcast.net



Will Travel To: VT, MA, NY, NH & CT
Notes: Training available via Phone, Online & webinars also available.
__________
---
Tori Pittman
PO Box 47, Wake Forest, NC 27588
Phone: 919-931-6222
E-mail: tori@tori-pittman.com
E-mail 2: ToriRDR@gmail.com


Basic
Steno and Voice

Will Travel To: NC, GA, VA, TN
Notes: Will Travel to: NC, SC, GA, VA, TN - with compensation
__________
David Stanley
Williamsburg, VA
Phone: (757)564-8755
E-mail: dstanley5@cox.net


Advanced Trainer

Will Travel To: South Carolina
Notes: Will Travel To: VA, NC, SC, MD, DC, PA, DE Remote training available via GoToMeeting
__________
Jennifer L. Thompson
Southeast (SC, NC & GA and others)
Phone: 803-261-7214
E-mail: thevoxacademy@gmail.com
Website: www.thevoxacademy.com/


Advanced Trainer
Basic

Will Travel To: Anywhere in the U.S. and also provide remote training via Zoom
Notes: Eclipse VOX - Beginners, Intermediate and Advanced Voice Writing Dragon NaturallySpeaking Will travel anywhere in the U.S. and also provide remote training via Zoom
__________
---
Tori Pittman
PO Box 47, Wake Forest, NC 27588
Phone: 919-931-6222
E-mail: tori@tori-pittman.com
E-mail 2: ToriRDR@gmail.com


Basic
Steno and Voice

Will Travel To: NC, SC, GA, VA
Notes: Will Travel to: NC, SC, GA, VA, TN - with compensation
__________
---
---
Dineen Squillante
Arlington, VT
Phone: (802)342-7199
E-mail: dineen@comcast.net



Will Travel To: NY, Upstate NY, MA, NH, CT & RI
Notes: Training available via Phone, Online & webinars also available.
__________
---
Tori Pittman
PO Box 47, Wake Forest, NC 27588
Phone: 919-931-6222
Phone 2:tori@tori-pittma
E-mail: ToriRDR@gmail.com


Basic
Steno and Voice

Will Travel To: NC, SC, GA,TN
Notes: Will Travel to: NC, SC, GA, VA, TN - with compensation
__________
David Stanley
Williamsburg, VA
Phone: (757) 564-8755
E-mail: dstanley5@cox.net


Advanced Trainer

Will Travel To: NC, SC, MD, DC, PA, DE
Notes: Will Travel To: VA, NC, SC, MD, DC, PA, DE Remote training available via GoToMeeting
__________
Kristina Tan
Fredericksburg, VA
Phone: (626)383-9880
E-mail: ktan16@gmail.com


Advanced Trainer

---
Carrie Hewerdine
Alameda, CA
Phone: (775)220-7999
E-mail: vieuxcarrie@gmail.com


Advanced Trainer

Will Travel To: California, Arizona, Oregon & Nevada
Notes: Expertise: Reporters converting to Eclipse from inferior products :-) - Realtime and auto briefs. Setting up Connection Magic and editing from the steno machine on the fly. Training available in California, Nevada, Arizona, Oregon and Washington
__________
Terri Mundt
Southwest Washington
Phone: (503) 297-3733
Phone 2:(503)314-1155
E-mail: terrijmundt@cs.com
E-mail 2: tmundt@cart-law.com
Website: www.terrimundt.com


Advanced Trainer

Will Travel To: Oregon and, Tacoma & Seattle
Notes: 25 years as a court reporter & Eclipse user. I love teaching & training on Eclipse software & Passport writers, combining my two passions: court reporting & teaching.
__________
---